In the midst of a home renovating project? Considering your wood flooring style options. Then this is the place to be.
Here at Martin Allen, we know a thing or two about wood and are here to answer any wood flooring related question that might come to your mind.
We deal with all kinds of questions and inquiries from our clients on a daily basis – from what the technical specifications of our wood boards are, to what colour flooring to choose for a nursery. However, a question we don't hear all that often is what options of styles you can lay wood flooring in.
There's a reason why the traditional straight plank tends to be the default setting for laying wooden flooring – its pleasing to the eye, fits every space, and is quick and easy to install. It's a safe and conventional choice – but why settle for the ordinary when you can put a unique stamp on your property by choosing a less typical laying pattern.
Changing up the pattern of your hardwood planks will breathe a new life into the renovated space and make it feel less generic and more – you. And there's a variety of designs to choose from – from simple and parallel to incredibly detailed and complex. Whichever you choose, you can rest assured that you will need a highly trained and experienced wood floor installer who will be ready to equal the task.
Straight plank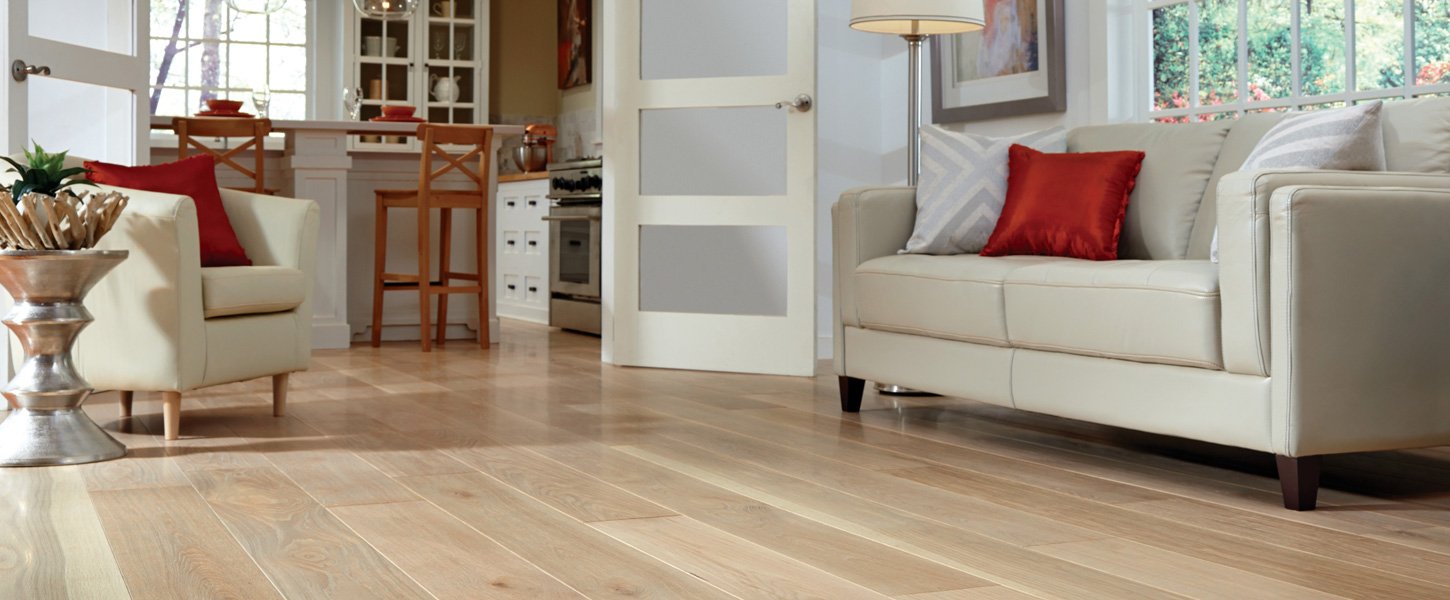 If you're not looking to make a statement with your hardwood flooring, then a straight plank is the way to go. Laying wood planks at a 90-degree angle to the walls is by far the most popular laying pattern.
But, don't confuse tradition with dull, because a well-laid straight plank is far from it. With different lengths and widths to choose from, there's still room to get pretty creative.
A straight pattern is recommended for small spaces because it takes the focus away from the floor. A predictable style means a floorless looked at, raising the eye line up and giving the room a sense of airiness.
Straight planks can also help visually enlarge a narrow space. By choosing planks of different widths, you are using more planks, which in turn create a sort of optical illusion of a larger space.
Herringbone
Gone are the days of herringbone hardwood flooring being reserved only for traditional interiors. Laying planks in a diagonal, zig-zag pattern is now becoming more and more popular both in modern and transitional interior design.
Once a painstakingly lengthy and costly process, having a herringbone pattern installed is now as quick and easy as any other laying style.
There's a wide variety of lengths and widths to choose from with herringbone as well, giving you the ability to achieve a wide variety of looks. Create depth and richness in a big space by going with smaller planks and giving them a darker finish. Scared of cramping up a small room and tiring your eyes with a dark, repeating pattern? Choose wider and longer boards with a light finish – it will give a creative twist to a minimal look that will help any space look roomier.
If we're lucky enough to be working in a large, traditional area, we always recommend our clients consider adding a double plank border to their herringbone pattern. Adding an edge border to hardwood floors has a very little effect on the overall price of the installing, but will endow the room with a sense of luxury and elegance.
Choosing to have a border installed gives our designers more space to play with the colours and finishes of the planks – and it almost always leads to a spectacular floor.
Chevron
Many a time confused with herringbone, chevron is a highly underrated and an often forgotten wood flooring laying pattern.
As with herringbone, chevron style planks are laid in a diagonal, zig-zag pattern. However, with Chevron, the tips of the planks are cut at a 45-degree angle and arranged to face each other, forming the letter V.
That makes for a more uniform laying style, making it suitable both for commercial and residential spaces. Often the first choice for a high-end retail space, the chevron pattern is now slowly finding its way into residential areas, large and small.
What makes this design so unique is the fact that it's a repetitive pattern that's able to blend into any interior seamlessly. There's a chance, you've walked on at least a few kilometres of chevron flooring without even noticing it.
This century-old laying pattern adorns museum and gallery floors, as a rule, thanks to its simplicity and elegance.
With many options to choose from regarding the length and width of the planks, not to mention the wide variety of finishes that can be achieved, you're bound to find a solution that fits your budget and your ideas.
Chevron is a pretty straightforward and forgiving pattern and can be tweaked to suit even the most outrageous design ideas. Thinking about long planks? How about 7 meter long planks laid in chevron finished with French polishing? Whatever you might think of – we've got you covered.
Versailles panels
When it comes to styles of laying wood flooring, it doesn't get more traditional than Versailles panels. Named after the famous Château de Versailles, the royal palace built by Louis the XIV, the Versailles panels capture a sense of luxury other laying patterns can't.
The basis of the Versailles panel pattern is a basket weave surrounded by a square, double plank border. The basket weave can be replaced with a myriad of other intricate patterns and designs, including traditional French parquet, Monticello, Fontainbleu, Marseille, Canterbury, etc.
This intricate Renaissance pattern can seem overwhelming with all the design possibilities and different wood species to choose from. But don't let the complexity of the Versailles panels deter you – they come in prefabricated panels and are as easy to install as an ordinary straight plank.
When renovating a country estate, a Victorian townhouse or a luxurious commercial area – Versailles panels can give your space the je ne sais quoi no other laying pattern can.
Conclusion
Martin Allen is built on the belief that quality and functionality are meant to complement your style and expression, rather than bring it to a halt. That's why we offer our clients the possibility to have their flooring finished on site.
Having pre-finished planks installed is far cheaper and more convenient, but when it comes to customizability – nothing beats having the wood finished on site. Our flooring experts can finish the planks to match the colour of an individual piece of furniture or joinery.
Your ability to customise your flooring doesn't stop with colour. Martin Allen has interior designers on call that can help you work out a style you want to achieve. A clean, Nordic-inspired modern interior, a traditional Victorian style, a rustic country look – it all starts from the floor up!
See if there's anything that stands out from the list above, give us a call at 01162 165 107– and we'll make it happen.